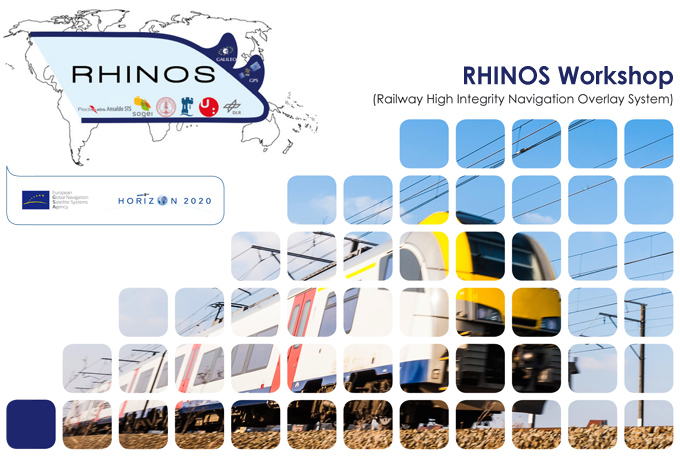 During 23th and 24th of March 2017 RHINOS workshop (Railway High Integrity Overlay System) took place in the GSA premises. The main objective of RHINOS workshop was to demonstrate fulfillment of high safety integrity and reliability standards used to detect virtual balise within ERTMS/ETCS based on EGNSS (EGNOS and Galileo) technologies. Workshop started by opening speech made by executive director of GSA agency, Carlo des Dorides. Further opening speeches were presented by the representative of the Czech Ministry of Transport, director of the department Vaclav Kobera and on behalf of the University of Pardubice, dean of the faculty Zdenek Nemec. During workshop, various of international experts were presenting theirs contributions/presentations such as Prof. Alessandro Neri (Italy - RadioLabs), Prof. Terry Moore (UK – University of Nottingham), Prof. Efim Rozenberg (Russian Federation – RZD NIIAS) and among other speakers that were representing partner organizations of RHINOS project were: S. Sabina (ASTS); A. Grosch (DLR), S. Roberts (University of Nottingham); A. Filip (University of Pardubice). Prof. Per Enge (USA – Stanford University) and Dr. R. Capua (SOGEI) were having their presentations via TELCO from the US and Canada. The content of the RHINOS workshop was enriched by representatives of various European railway institutions: such as P. Petruccioli representing UIC, M. Ruesen representing ERTMS User Group, P. Gurnik representing UNIFE. The whole workshop was co-organized by GNSS Centre of Excellence (GCE) and its director, Pavel Dobes, was chairman of the workshop.
Evening discussion dedicated to the outcomes of the RHINOS project and way forward was moderated by the initiator of the RHINOS project - Mr. Francesco Rispoli representing ANSALDO STS.
Official annotation of the workshop:
The purpose of the 2nd RHINOS workshop was to demonstrate the results achieved by the RHINOS consortium in the field of EGNSS (EGNOS, Galileo) application for safe and dependable train location determination. The applications are intended for railway signalling and train control including ERTMS/ETCS. The agenda was mainly focused on solutions enabling
1) to meet demanding safety targets for train position determination on parallel tracks based on GNSS and
2) efficient exploitation of EGNOS and Galileo for virtual balise detection in the frame of ERTMS/ETCS.
Most of the effects of satellite faults and excessive errors due to GNSS signal propagation can be mitigated by GNSS augmentation. Due to this reason the railway 2-tier high-integrity navigation overlay system was presented during the workshop. However, excessive local errors due to signal propagation in a harsh railway environment and other potential GNSS vulnerabilities can represent causes of serious hazards. Therefore a great attention was payed to the RHINOS solutions enabling protection against the excessive multipath error, electromagnetic interference or spoofing via the on-board ARAIM (Advanced Receiver Autonomous Integrity Monitor) and other techniques.
The European Rail Stake-Holders view on GNSS satellite adoption into ERTMS/ETCS represented the important contribution in the second part of the workshop. Since one of the RHINOS objectives is also to provide efficient solutions from a long-term point of view, the presentations were also reflecting the needs for future international certification of the GNSS-based signalling solutions.
We would like to thank to all speakers and attendees and we wish a lot of success to the project in its last phase.
Program of the RHINOS workshop for download here
Pictures from the workshop here (81MB .zip file)
Link of presentations are published here - 72MB .zip file.
Video from prof. Rozenberg (84MB .mp4).